ProSound USB Podcast Mic Reviewed
Here, we are looking at the ProSound USB2.0 HQ Podcast/Vocal Microphone, which is available from Maplin Electronics in the UK.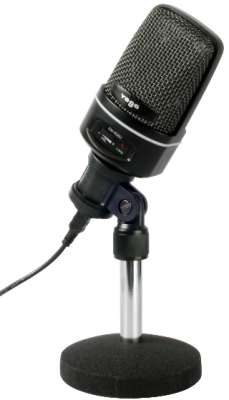 Billed as a high-quality microphone suitable for podcasts and audio blogging, this is a uni-directional dynamic microphone that connects to your PC via USB.
The ProSound USB microphone is supplied with an adequate metallic base unit and microphone stand, as well as a 3 metre USB lead.
Using the microphone is straightforward. At the base of the microphone is a mini USB socket, and you use the supplied lead to connect to a standard PC USB socket. If using Windows XP or Windows Vista, no drivers are required – the microphone appears as a device straight away. (We understand it works on Windows 7 too)
The ProSound USB2.0 HQ is a mono microphone with a cardioid microphone pattern, which would make it ideal for use with a single voice for a podcast or a recording of the spoken word. The mic has a red LED for status, as well as a rotary volume control on the front of the microphone.
If you're interested in the specs, the microphone has a reported frequency response of 50 Hz to 18 kHz, impedance is 600 ohms, and it uses a dynamic transducer.
The microphone is not supplied with any recording software, but can be used with the excellent Adobe Audition package, or the free Audacity package.
Although the microphone is billed as ideal for use for podcasting and is indeed very easy to connect and use, the audio quality of this microphone is a little disappointing. We recorded some test audio with this microphone, and compared it with cheaper handheld dynamic microphones, only to find that the quality is not as good as we were hoping. We have an audio clip recorded using this mic further down the page.
We found that the audio quality was lacking in warmth, and it's also very good at picking up ambient room noise, such as a PC fan or air-conditioning unit, making it not necessarily the best choice for home recording. It needs to be used with a pop shield. Due to these shortcomings, we're unable to recommend this microphone for recording recent quality podcasts.
If you're looking for a more suitable USB microphone with a better sound quality, we get good results with the admittedly more expensive "Yeti", made by Blue. Alternatively, you could look at using a basic dynamic microphone with a microphone pre-amp or a mixer.
Audio Sample: MP3 Recording made using ProSound USB Mic (128kbps MP3 – 2.2MB download)
The ProSound USB Mic is available from Maplin: ProSound USB Mic at Maplin.co.uk
See Also: