What happened to PodNova?
What was PodNova?
PodNova launched in May 2005 as a web-based Podcasting service. It was set up by a company called Active8 in the Netherlands.
The service allowed podcasters to submit their shows to the PodNova directory with details about their shows, and podcast listeners to manage their podcast subscription, rate shows and download new episodes.
What happened to PodNova?
PodNova shut down at the end of February 2010.
The message on their site in the run-up to the closure of PodNova read as follows:
Podnova.com will discontinue
Podnova.com has decided to shutdown the Podnova website effective on the end of February 2010.
We strongly advice our users to transfer their subscriptions to a other service. When podnova.com discontinues your data is lost.
We thank our users for their support in the past.
If you are interested to buy this website, please contact us at info@podnova.com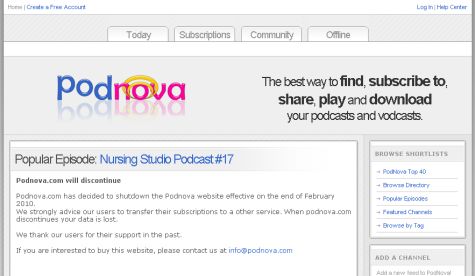 Other links: